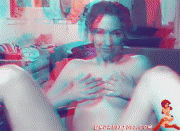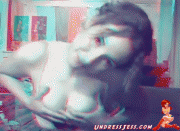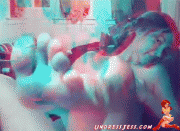 So as you all know I have had some really silly issues with my old apartment. My landlord went bankrupt and then out of nowhere alerted me that the property I was renting a space out of was being foreclosed. After a few days of panicking this bad situation got worse when my electricity was turned off out of the blue and then my water. I tried for a about a week to stick it out in the freezing cold because I love my animals so dearly but it came to pass that I needed to stay elsewhere until I could figure my shit out.
I have been staying with my friend Steve who has been awesome enough to allow me and one of my cats to nest in and get some of my shit back together. I recently had my site redone design wise and I also added new features. (Please let me know your opinions on the new design! www.undressjess.com ) This was something that was being put into effect before any of the lame setbacks happened with my dwelling. I finally have my spy cams back up at his house and although he hates them he is dealing.
So we talked about it (Steve and I) and we decided that since he was planning on moving out of his house anyways I would just take it over. He is actively looking for a place as I type this and has found a ton of leads. Honestly although he is a good guy… I can't wait until his ass is out of here so I can get more comfortable and bring my Dog and other two cats over here.
Anyways so recently a member of mine bought me this totally rocking 3D webcam to do a few 3D members shows on my site weekly. Ha! I didn't know this was a fetish but you learn something new everyday! I did my first 3D members show yesterday on my site www.undressjess.com and it was really crazy fun. The one thing I noticed though is that most people don't have 3D glasses just chilling around for them to wear to my shows so
I decided to do a contest that would benefit my members/future members as well as myself in my housing situation and here it is:
Since I am taking over Steve's house and have been staying here and leaving my Dog and two other cats alone in my old apartment with my stuff lots of shit has gotten ruined… My couch was broken anyways but now my mattress is peed on! And basically I have never really decorated my living room in the first place in all of the apartments I have had… So I made a wishlist for apartment supplies and decorations!
http://www.amazon.com/gp/registry/wishlist/33ANQ3F4QAXE8
I am not asking in my right mind for anyone to buy me say the couch on there or new twin size bed (cause Steve's bedroom area is HELLA small compared to my old bedroom! Like as big as my old closet. Seriously.) but I did mark some of the 20-40 dollar items I would like to have "contest".
This means if you get me something off of this list marked as a contest Item you will win from me a pair of signed 3D glasses sent to you in the mail as well as some other random goodies I stick in there. If you are already a site member you will also receive a PRIVATE one on one 3D cam show once you received the glasses in the mail! If you are NOT a member (Um and why aren't you?) you will get a week pass to my site activated either once I receive the gift in the mail or once you receive the 3D specs. It's up up you!
In the event that more than four folks end up buying more than four gifts I will award the four with that bought the highest costing items and to those who don't receive a pair of the signed glasses I will give them both the 20 minute show and the week pass to www.undressjess.com ! I will try to prevent this though by posting the four winners on my twitter once they have been placed! You can follow my twitter here:
http://twitter.com/clubmix1996